Liebherr Mining goes electric
Related Articles
With strong expertise in electrical machines, Liebherr presented a duo of machines fitted to meet the requirements of the mines of the future at Bauma 2019: the R 9200 E and the T 236. When working together, the R 9200 E and T 236 reduce the environmental footprint of any mining operation. The R 9200 E in face shovel configuration can easily fill a T 236 in five passes, a perfect combination for scalable productivity.
R 9200 E – 100 % electric driven 210-tonne excavator
The R 9200 E has been designed to fully support the requirements of the mining industry. With a rated output of 850kW (1,139HP), the electric 210-tonne R 9200 E balances performance with environmental consciousness. No exposure of people and the environment to Diesel emissions and noise, longer engine life cycle and up to 25 % less maintenance costs compared to a diesel excavator. In order to reduce starting inrush current, all Liebherr Mining electric excavators are equipped with autotransformer starting devices to avoid disjunctions of the mine's electric network while starting the excavator.
As mining customers work all around the globe in the most demanding conditions, the electric drive has its advantages for them too. An electric excavator experiences less power losses than a diesel engine at high altitude and is much easier to start in cold climate.
Liebherr offers a cable reel option for all electric drive excavators. This concept offers the machine better mobility and less manpower is required on site (moving the cable). The cable reel is totally autonomous and has a capacity of 245 to 300 m depending on the excavator type. With all these advantages, no wonder that some electric HEX, in face shovel and backhoe configuration, have already achieved 70,000 operating hours without any major maintenance operation on the electric motor.
T 236 – diesel-electric driven 100t mining truck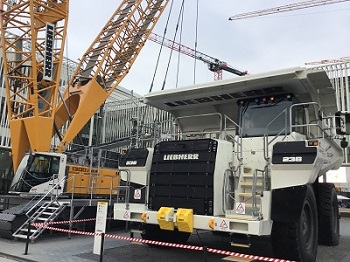 The T 236 has the ability to drive on steeper inclines compared to mechanical trucks. This allows the mines to plan for steeper ramps and therefore reduce their strip ratio. It provides a better adaptation to the geology. While operating the T 236, there won't be any haul road deformation/deterioration as well as no spillage of hauled material resulting from gear changes.
Capitalizing on proven experience in Off–Highway-Truck technologies, the T 236 takes advantage of Liebherr's electric drive system innovations with the introduction of the vertically integrated Litronic Plus Generation 2 AC drive system. The T 236 performs its job with continuous power to ground to maximize speed on grade.
Since the first presentation of the concept to the public at MINExpo 2016 in Las Vegas, the T 236 has successfully completed its testing phase and is today operating at the Erzberg Iron mine in Austria and another unit started its operation in South Africa. This innovative machine provides the industry with a new benchmark in the 100-tonne class for Off-Highway-Trucks: focusing on productivity, reliability and efficiency to deliver the lowest cost per tonne. All components on this truck are designed and built to perform and last in the most extreme mining conditions. As a result, Liebherr trucks run much longer between component overhauls, saving time and money.
Mining machines made by Liebherr: highest levels of uptime and cost-efficiency
Since moving into the mining industry, Liebherr equipment has set high standards in open-cast mining operations around the world. Through advanced technologies, long-life components and comprehensive on-site customer service, Liebherr mining trucks, excavators and crawler tractors ensure the highest levels of uptime and cost-efficiency – even under the toughest conditions. Liebherr's continuous focus on innovation and quality ensures maximum customer value in all product areas.
Liebherr mining machines are available with a range of options including high-performance execution, optimized fuel consumption, sound attenuation, high altitude and arctic packages. These options allow the machines to adapt to most applications all around the globe; from the Kuzbass region in Russia to the highest summits of Argentina. In addition, the Liebherr Group has over 30 years of experience in electric driven machines for earthmoving, material handling and mining applications. Today, Liebherr Mining is the OEM that offers the largest range of electric driven excavators on the market. Ranging from 130t to 800t, the R 9150 B, R 9200, R 9250, R 9350, R 9400 and R 9800 are all available as electric driven versions.
Electric drive does not only apply to the range of Liebherr Hydraulic Excavators, but also the Off-Highway-Trucks. In fact, Liebherr was the first to develop a 100-tonne diesel-electric mining truck with a four corners oil immersed braking system and Active Front End technology. This truck is operating today in Austria and South Africa, reducing the costs per ton of these mining operations.
Furthermore, Liebherr offers a Trolley Assist solution for its OHT range. Utilizing onboard Pantographs to connect the trucks drive system to overhead power lines on uphill haulage segments, the Liebherr Trolley Assist System improves efficiency and productivity. When connected to the overhead power lines in trolley mode, the full power capacity of the electric wheel motors can be translated into speed on grade while the diesel engine idles; reducing emissions and fuel consumption.