Meiller tipping semi-trailer innovations for every weight class at the IAA 2018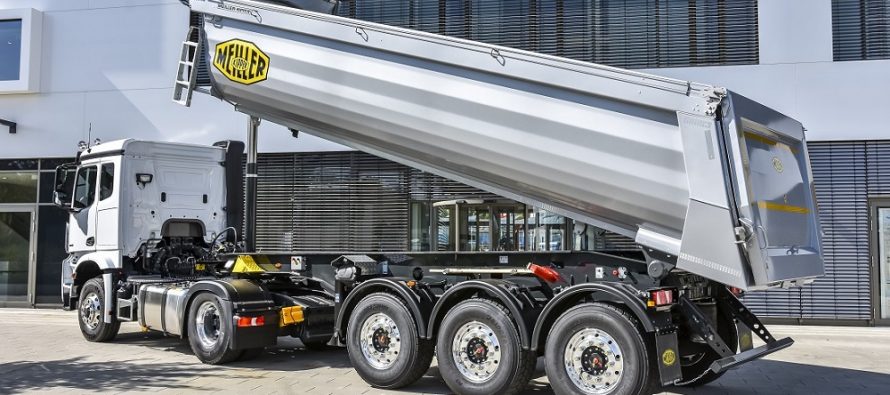 The tipping semi-trailer embodies particularly flexible application options and pleasant handling characteristics for drivers, even on long journeys. Meiller underscores these attributes with the latest developments on the lightweight LHKA and classic MHPS semi-trailer. Both versions can be viewed by the international public at the IAA Commercial Vehicles 2018.
As with all other Meiller series, the tipping semi-trailer variants are endowed with new safety functions that ensure efficient operation. The new reversing cameras make turning, positioning and parking of the trailers even easier and safer. LED working lights ensure the required visibility in every situation and at all times. Perfectly fitted electric sliding tarpaulins from Meiller facilitate closure of semi-trailer bodies, reliably securing the load.
The tipping alarm also ensures safety, as the system warns the driver when the semi-trailer is on an incline and safe tipping cannot be guaranteed. Tyre pressure is also monitored continuously and transmitted to the driver in the cab. This flawless communication between the tractor and trailer ensures that drivers can master transporting tasks with ease with the revamped Meiller tipping semi-trailer variants and makes them safe for all road users.
These functions can be experienced on both the LHKA and MHPS models. The first letter of the former indicates its lightweight category. With optimised weight characteristics, the asphalt transporter is equipped with a particularly light aluminium tipper body with optional thermal insulation. This maintains consistently high temperatures when delivering asphalt to road finishers. The exceptional payload of this lightweight design contributes to particularly efficient transportation on long journeys without compromising the vehicle's stability and intrinsic value.
On the other hand, the medium-category MHPS semi-trailer is a real all-rounder. With optimised weight and a robust design, its driving characteristics impress on even difficult terrain. A range of different variants enables Meiller to offer its customers a semi-trailer for every need that perfectly meets their individual requirements.