New heads for the large end of Kesla's harvester range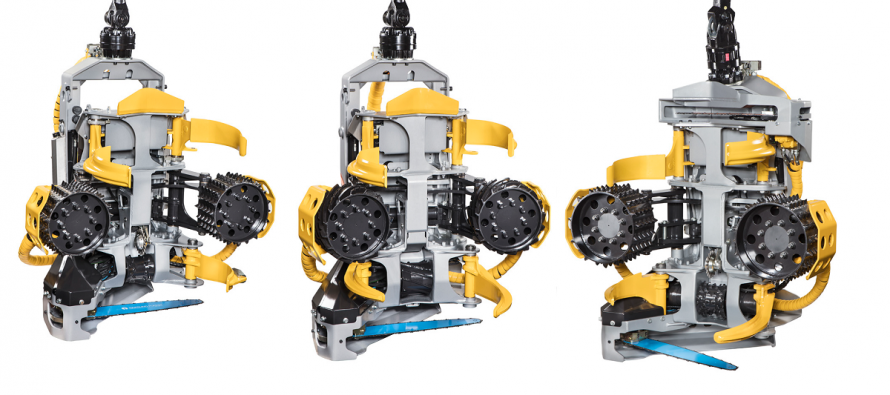 The extensive Kesla range covers both roller and stroke harvester heads for professionals, from small thinning heads up to heavy-duty heads for clear cuttings and processing at landings. Last year Kesla launched a new series of large heads from 27RH-II to 30RH-II.
The new, modular series of the heads includes three different models, 27RH-II, 28RH-II and 30RH-II, and a wide range of options. The Kesla 27RH-II is a light but powerful head for large rubber-wheeled harvesters and max. 20 tons excavators. The head features 2WD feeding with the Kesla's unique variable roller angle linkage. With three delimbing knives and short frame design, it offers exceptionally high power-to-weight-ratio and excellent features for processing curved trees and eucalyptus.
The design of the Kesla 28RH-II is similar to the 27RH-II but equipped with four delimbing knives and the possibility of whether 2WD or 3WD synchro-feeding. The 30RH-II is heavier and more robust head for track-based harvesters and excavators up to 25 tons. It has, like the 28RH-II, four delimbing knives, and it can be equipped with whether 2WD or 3WD synchro-feeding. Maximum sawing diameter of the new heads is 780 mm with JPS R5500 saw unit, and max delimbing force is 36 kN.
The new series includes lots of options to equip the head to different working conditions, from the Borealis coniferous woods to hardwoods or processing and debarking of Eucalyptus and Acacia.
Performance of the new heads has been greatly improved by the new hydraulics; valves, hosing and feeding motors. Especially feeding and sawing power have increased remarkably. The length and diameter measuring systems have been redesigned for better measuring accuracy to meet the highest standards in the industry. For debarking applications, the heads can be equipped with optional length encoders in the feed motors and optical butt-end sensor.
The sturdier frame construction includes many changes and more mechanized parts to further improve manufacturing accuracy and quality, leading to improved durability and longer service life. Overall, the design is much more protected, offering better protection for hoses and sensitive components. Meanwhile, serviceability has also been improved. Altogether the new heads have more than 100 improvements (compared with the old ones) that lift them to a totally new level.